NYU Langone, Hassenfeld Children's Hospital Mosaics
New York, N.Y.
Our latest project was fabricating and installing five mosaic murals for the beautiful new NYU Langone, Hassenfeld Children's Hospital Pavilion.  A state of the art facility located in Manhattan at the corner of 34th & 1st Ave, the hospital was designed with the needs of children and families in mind.  The pediatric specialists provide the most advanced inpatient and outpatient care for children who have rare and complex conditions, as well as more common childhood illnesses.  For more information about this incredible new facility, click HERE.
Creative Director, Mosaic Artist and Installer:
  Cathleen Newsham
Lead Mosaic Artist and Installer:  Jonathan Schreyer
Mosaic Artist:  Liadain Clancy
Mosaic Artsist:  Jasmine Jacobs
Installer:  Greg Hare
Client:  Dimensional Communications, Inc.
Contractor:  Turner Construction Company
Architects:  Skolnick Architecture + Design Partnerships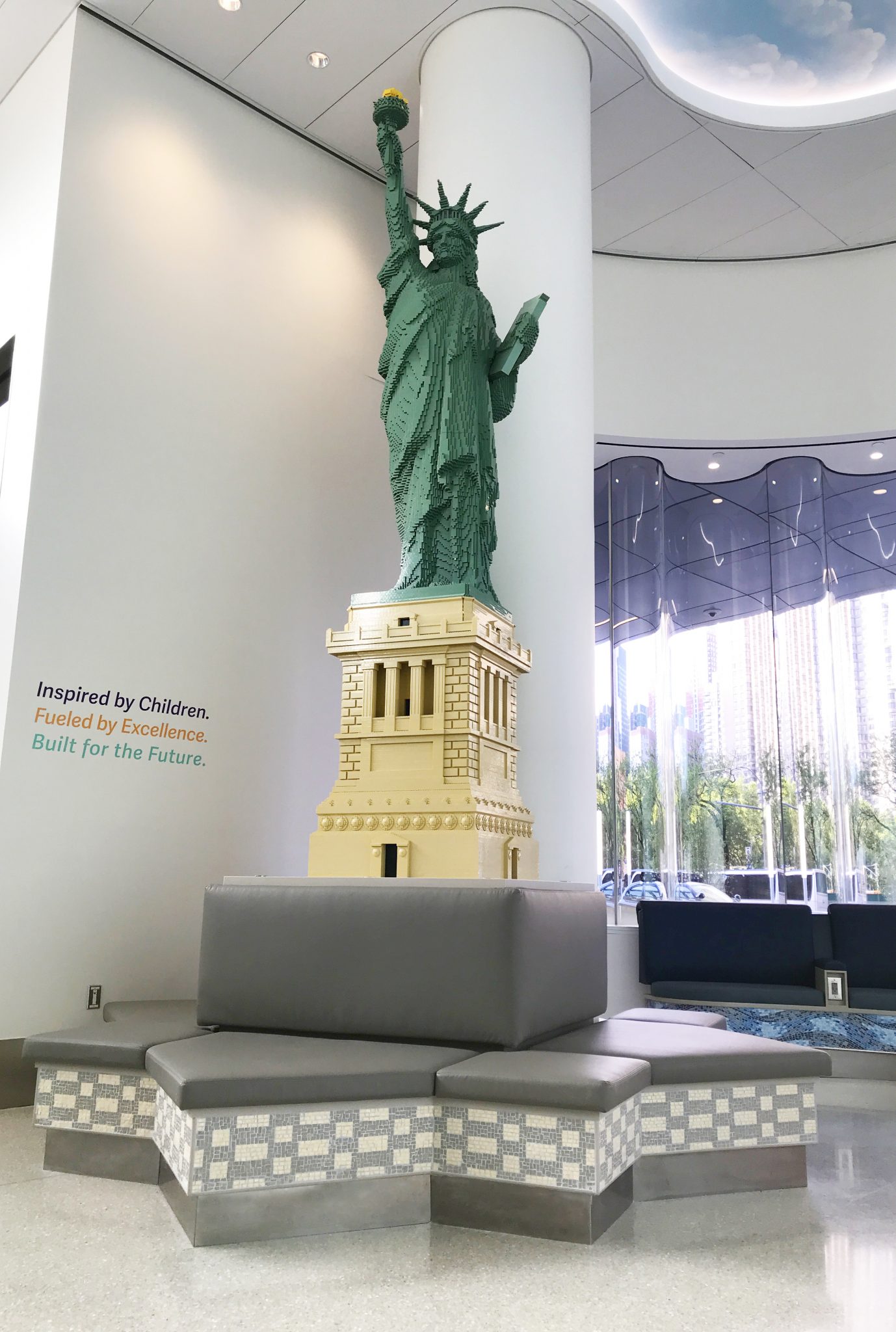 The ground floor lobby, which can be accessed on 34th street, welcomes patients and families with a replica of Lady Liberty made entirely of LEGO bricks.  The statue originally was created for the Toys R Us location at Times Square, but was purchased by the hospital when the store closed.  Surrounded by a bench in the shape of a star, Modern Mosaic Arts was commissioned to make a mosaic to cover the bench face.  Using Italian smalti, the artists created and installed a mosaic that replicates the look of the legos and complements the colors of the statue and upholstery.
In addition to the star bench mosaic, Modern Mosaic Arts was also asked to cover the face of a 60 foot long bench in a playful wave design that curves behind the Statue of Liberty.  Fabricating the mosaic of Italian smalti tile, the entire lobby pays tribute to the most recognized symbol or New York city while providing plenty of seating area for patients and families.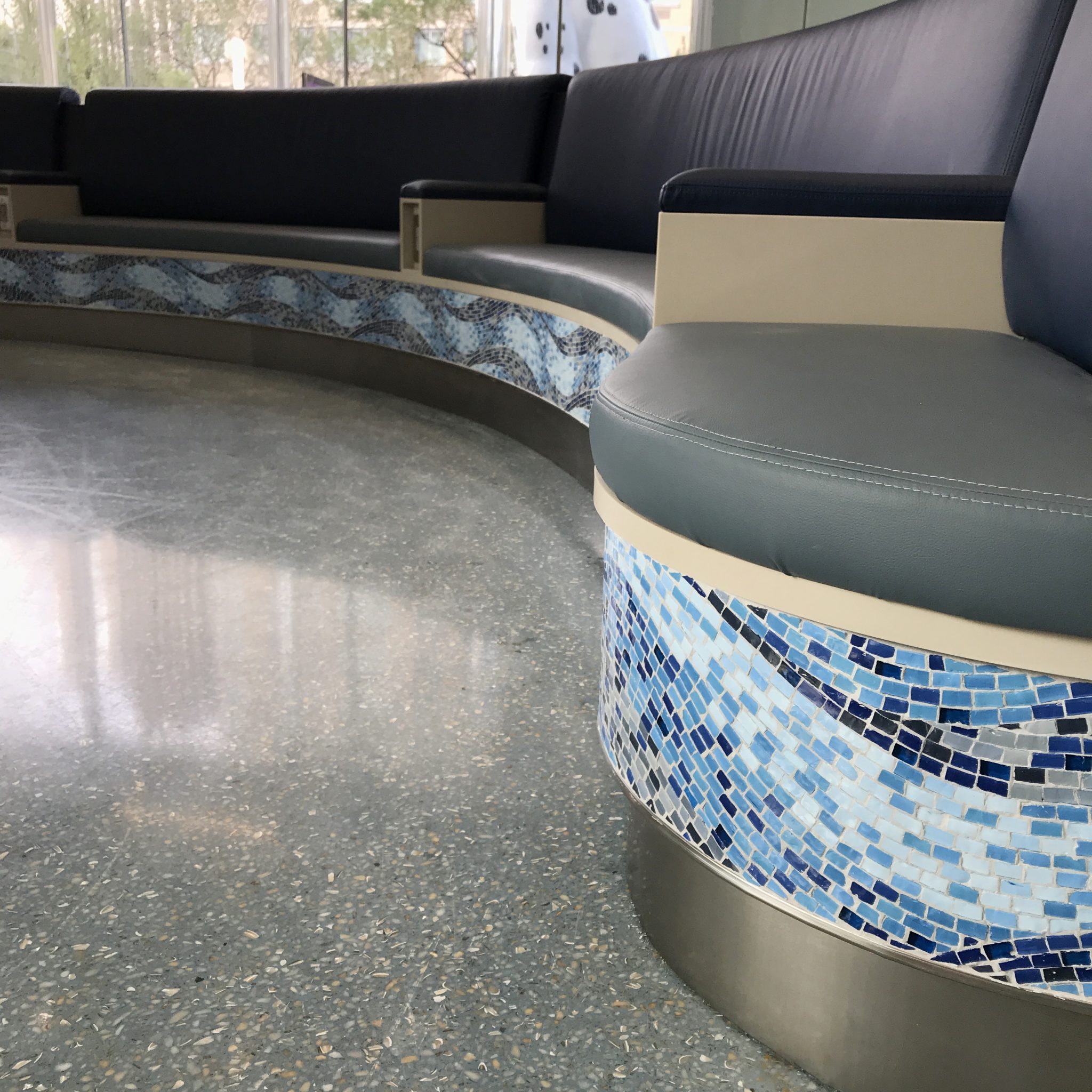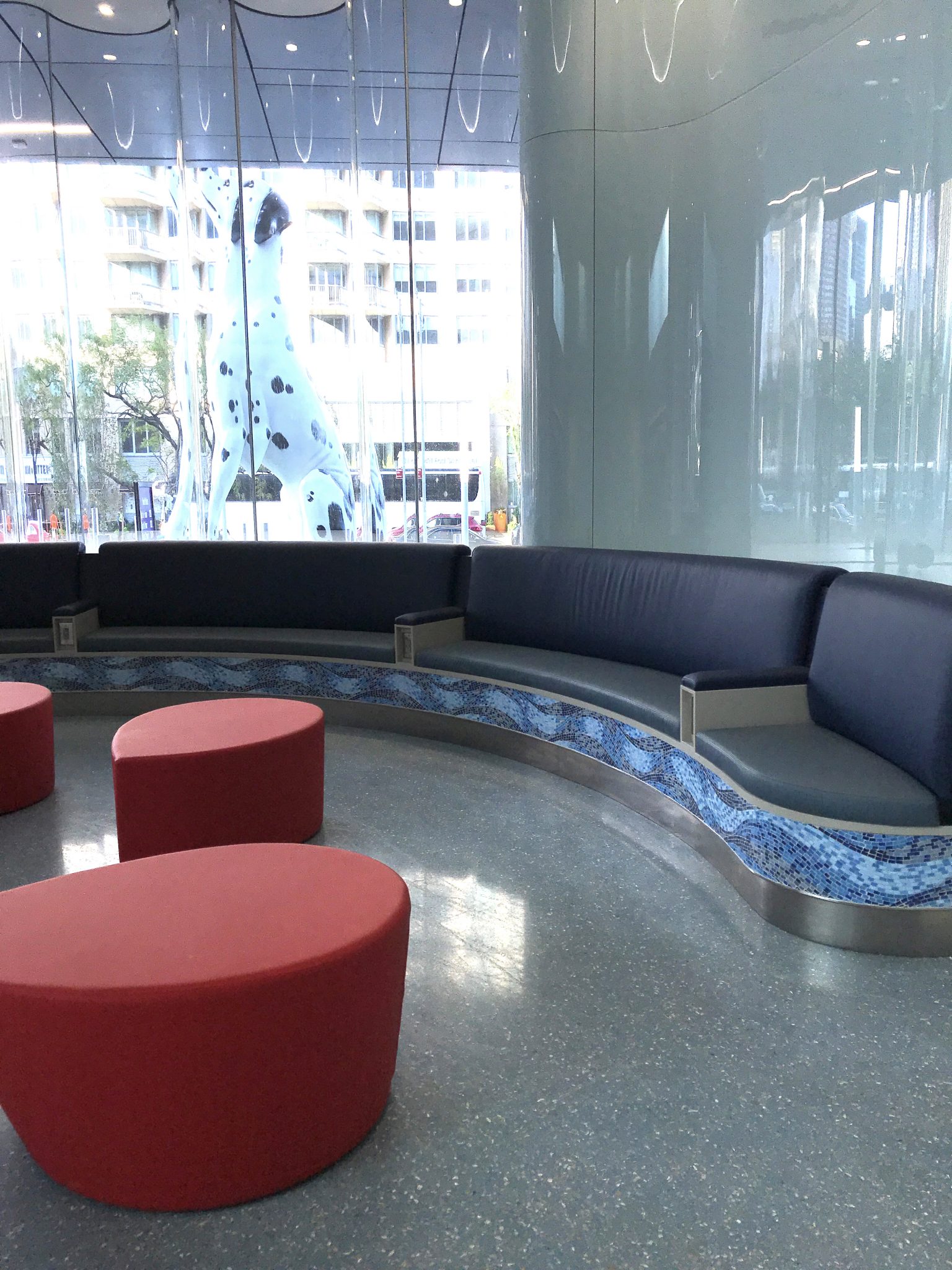 The elevator bank in the 7th floor lobby is surrounded by a custom built facade replicating New York City's famed Grand Central Station, the hub of subway transportation that links Manhattan and the four outer boroughs.  Created by the talented carpenters at Dimensional Communications, the structure's upper frieze is an 80 foot long mosaic of subway tracks that glistens with thousands of tiny glass tiles, each hand set by Modern Mosaic's artists.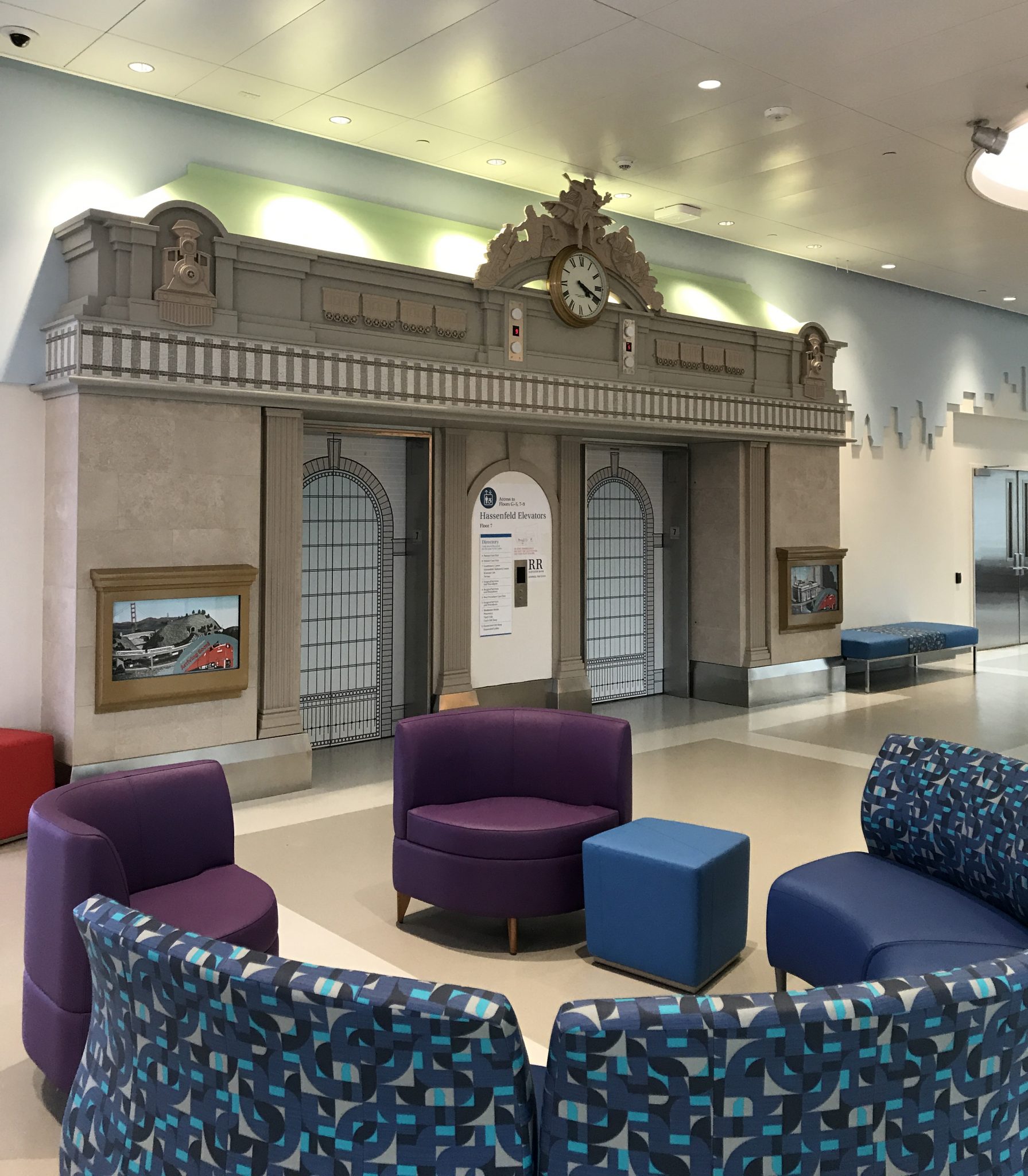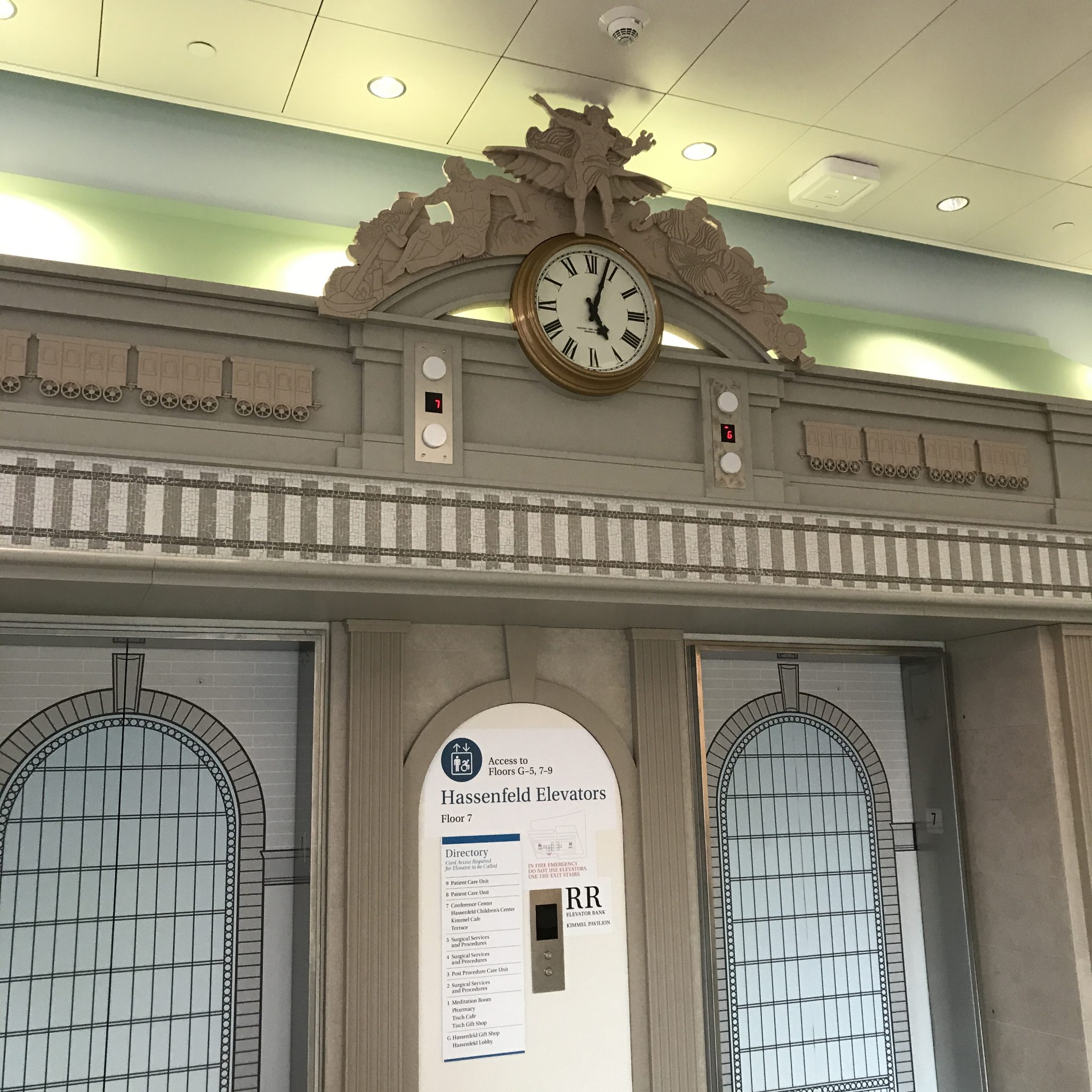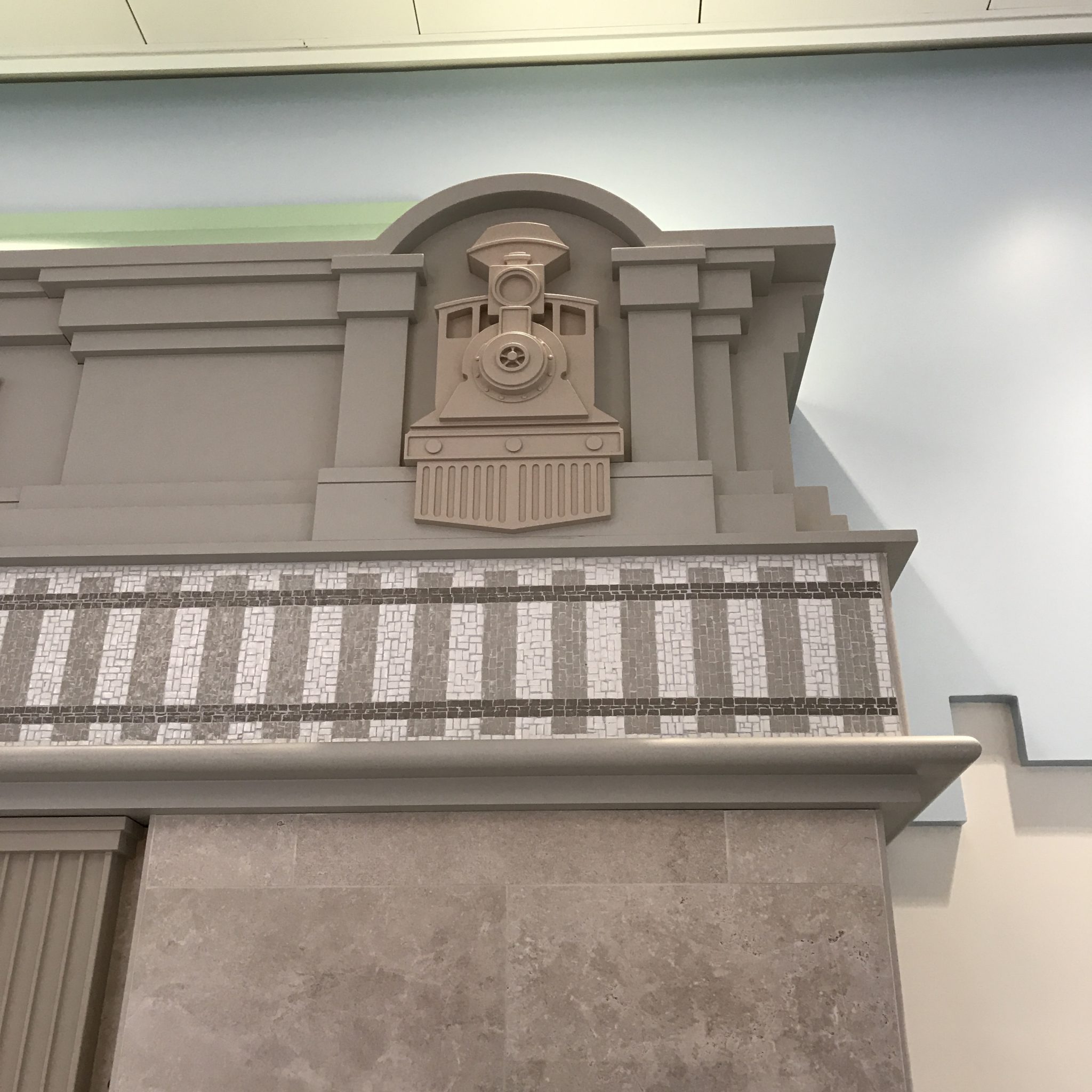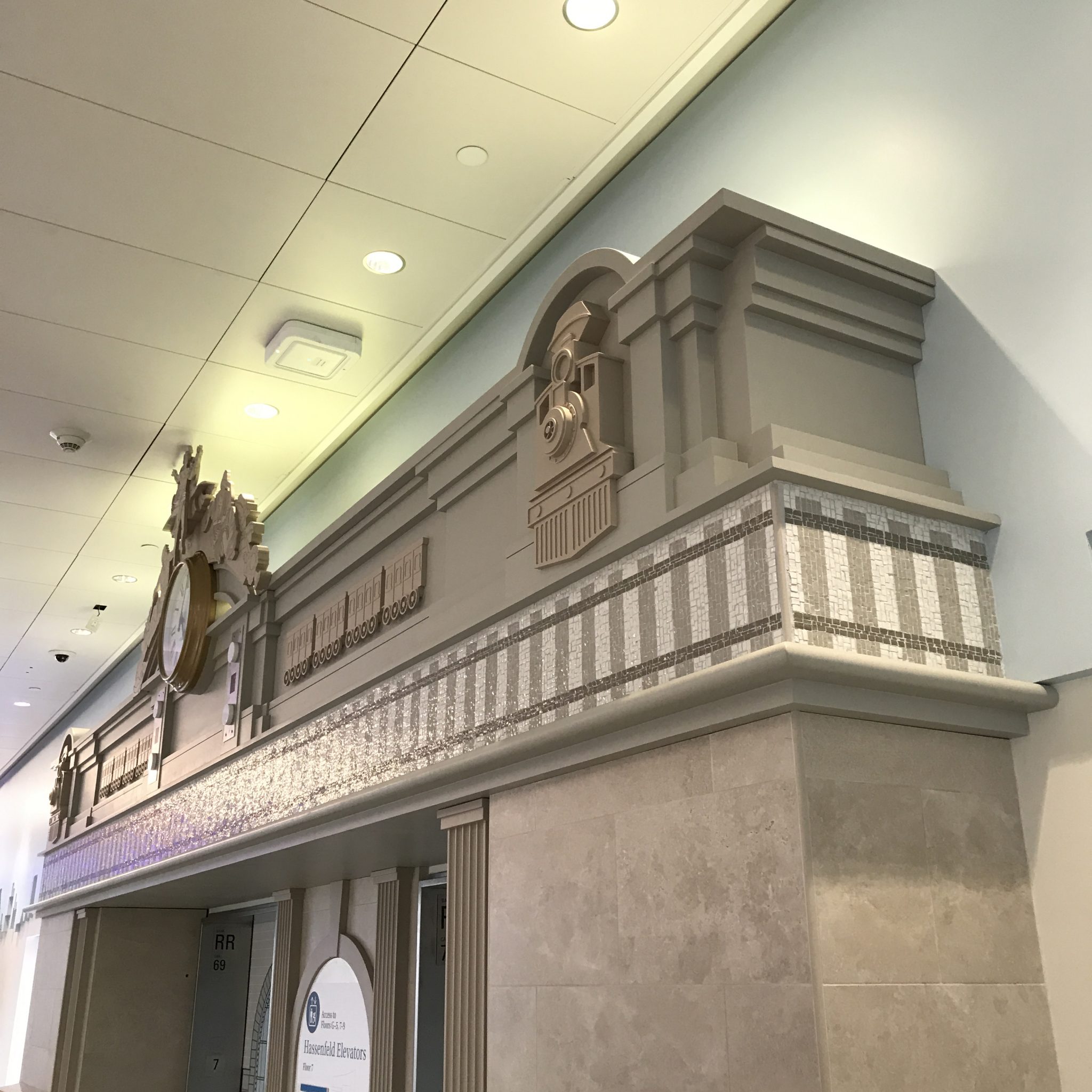 Anyone who has visited Rockefeller Center in midtown Manhattan will recognize the replica of the famed Prometheus sculpture behind the 7th floor reception desk.   Sculpted by the talented artist Hilda Borem, the golden figure floats gracefully over a mosaic background that features the signature greenery of the plaza area, and sparkles with flecks of gold smalti.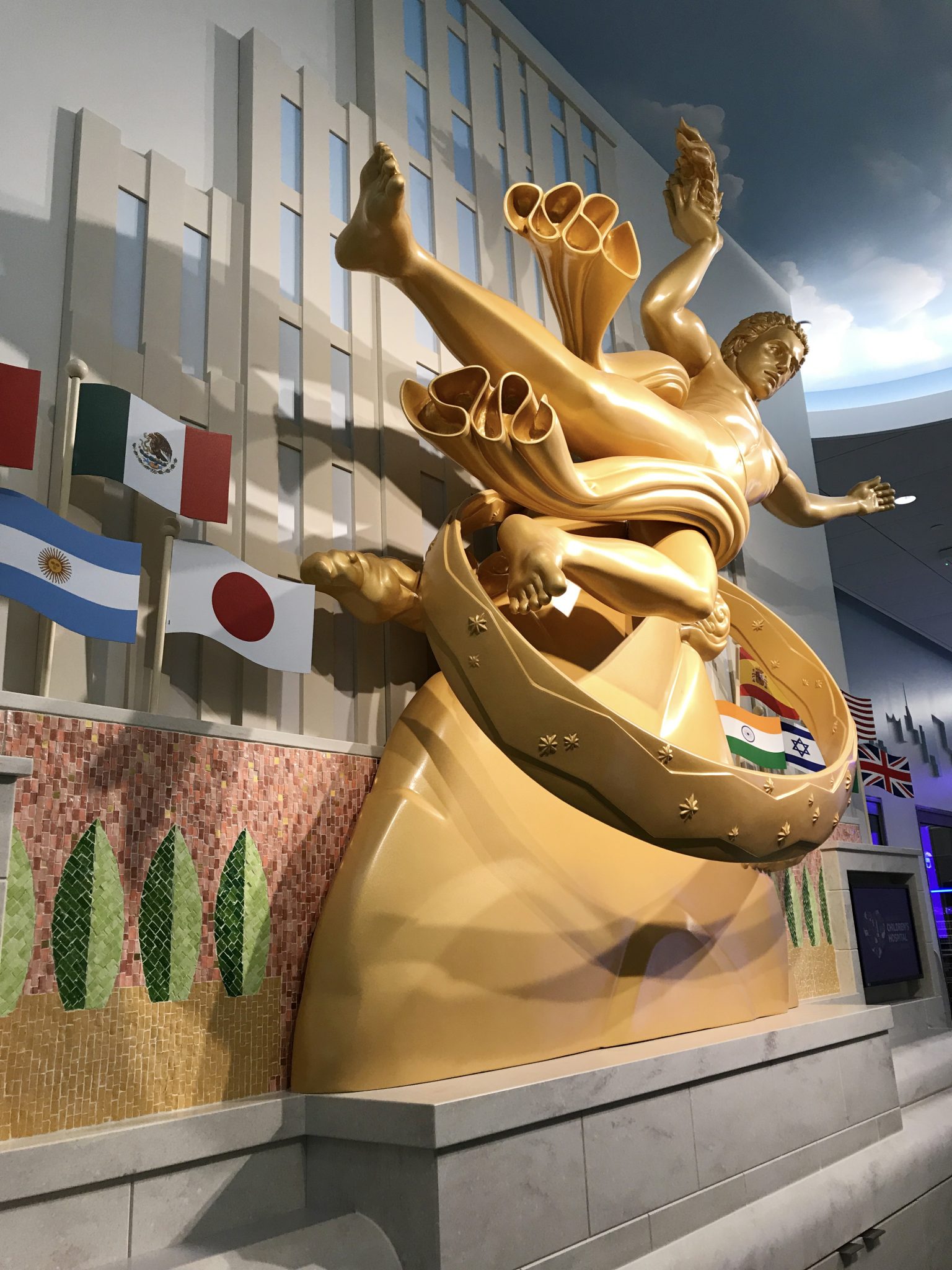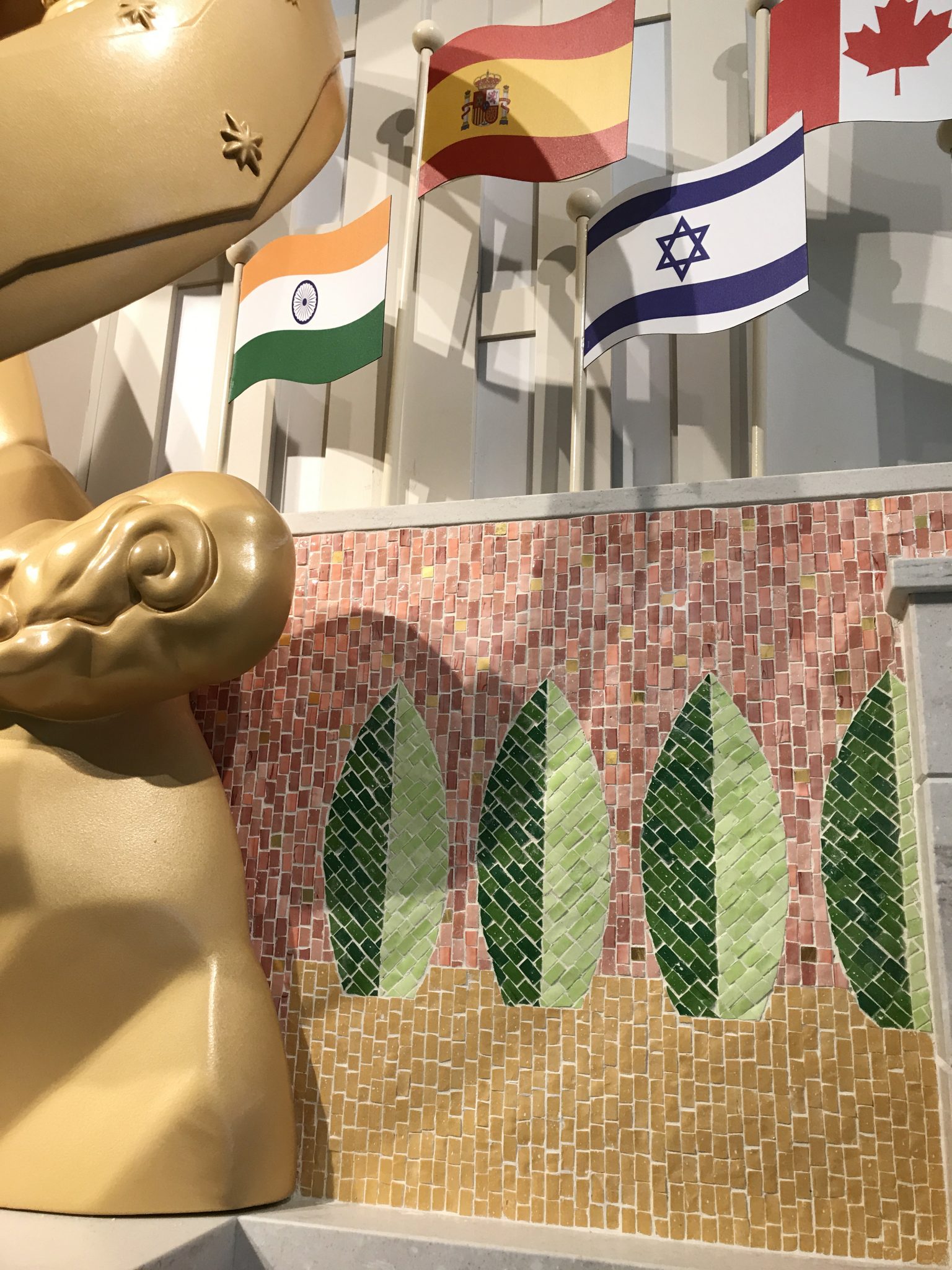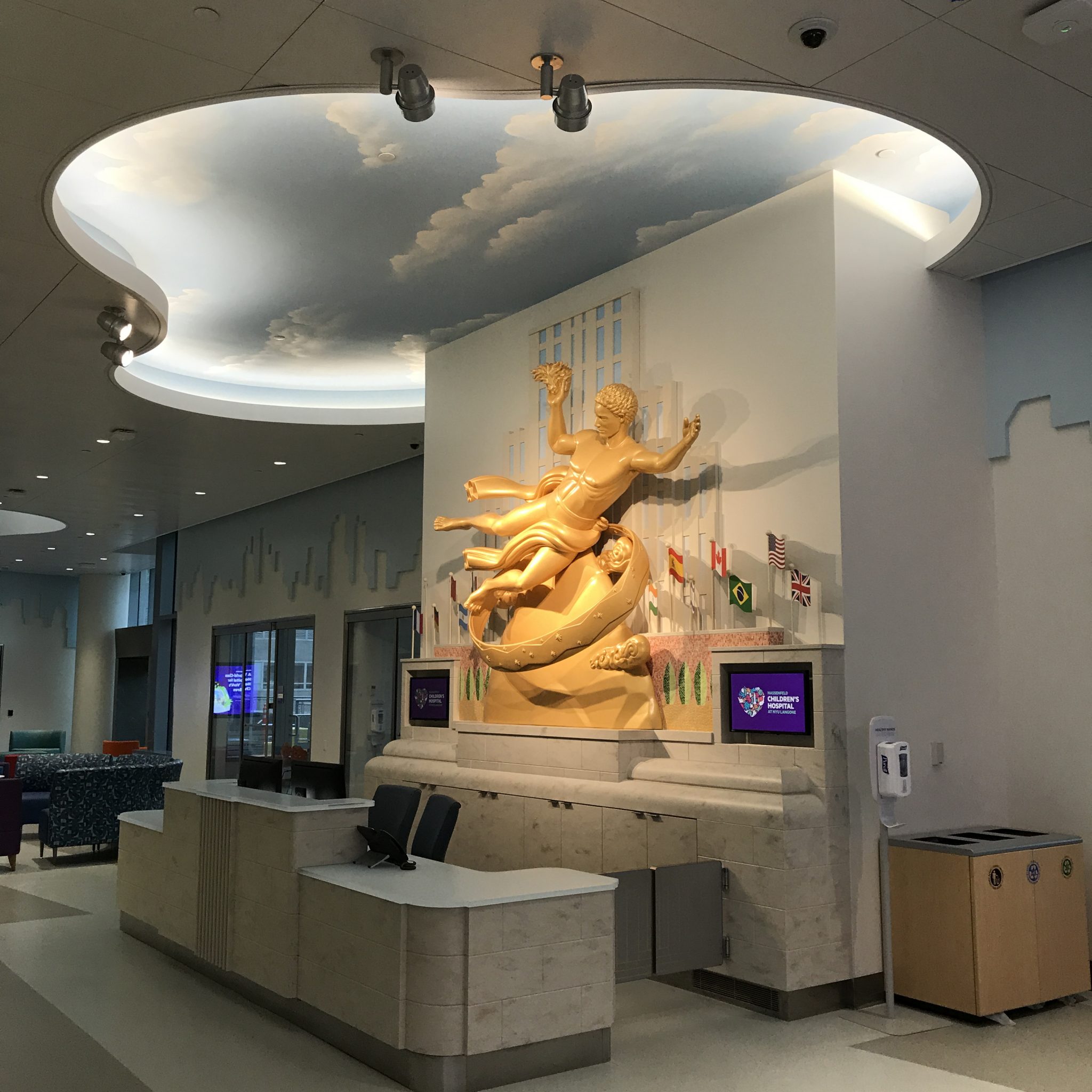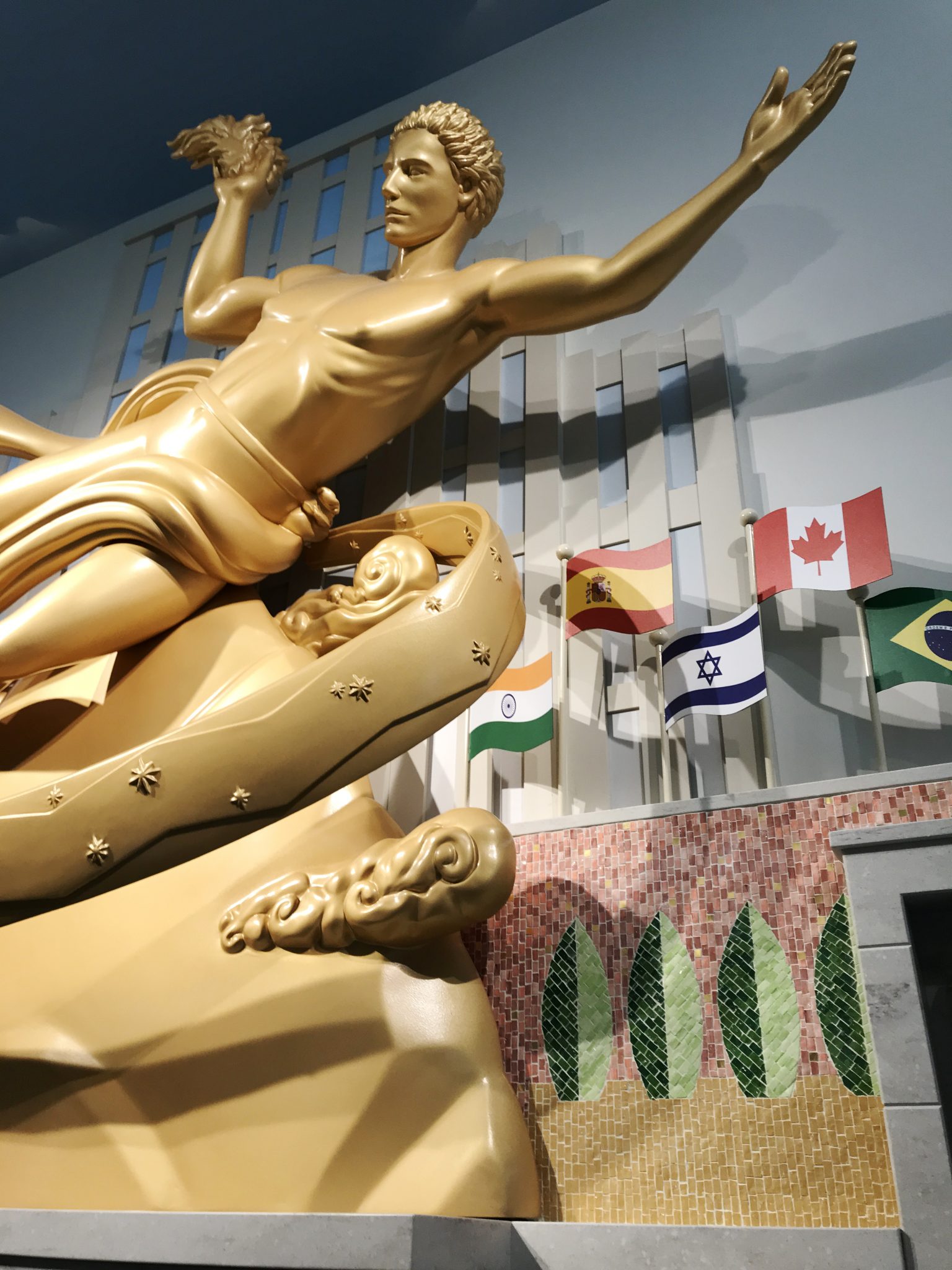 The 7th floor reading nook is designed to give patients and their siblings a private play area.  Modern Mosaic Arts created a charming mosaic that fits perfectly into the arched nook under the stairwell, and depicts a subway platform complete with characters awaiting their trains.